NEWS
09-28-2014: We will be playing at Phoenix Bar & Grille on Halloween at 9:30 PM  (Friday Oct 31st) - great contests and drink specials!
10-12-2014: We hit the 50K mark on JangoRadio !!! This is for our first album "SP1: Those Who Roar Last..."
09-28-2014: We will be playing at Olive's in Nyack, NY on Saturday 10/18 at 10:30 PM!
09-10-2014: We will be playing at  ROXY & DUKES ROADHOUSE in Dunellen, NJ on Friday 9/26 at 10:30PM!
08-22-2014: LION-HEARTED is ranked #1 for Funk at Reverbnation.com!!!
08-09-2014: LION-HEARTED will appear in the November/December issue (#66) of FIREWORKS magazine in the UK with a review/interview, and one of our tracks ("Ugly") on the accompanying CD sampler to that issue (due out in mid October)!
08-05-2014: More show dates to be announced soon, including our first appearance at ROXY & DUKES ROADHOUSE in Dunellen, NJ in late September.
07-30-2014: Recording of our second album,"SP2: Roar The Loudest! (the sequel)", will commence in the first week of September at MOZART STUDIOS in Clifton, NJ.
07-16-2014: LION-HEARTED will return to Crossroads in Garwood, NJ to perform on Saturday, August 23rd at 9pm!
06-16-2014: ANNOUNCEMENT -- The 10 songs from our debut album, "SP1: Those Who Roar Last..." have officially surpassed the 40k-play mark on Jango Radio!!!
With over 40,000 listens all over the world in the past 15 months, we have achieved an average weekly "pop score" in the 80's (on a scale from 0 to 100).
We are humbled by all the great comments, proud of that rating, and grateful to every new fan we have gained.
Cheers!...  And THANKS FOR ROARIN' WITH LION-HEARTED!!!
05-05-2014: We are working on material for our next album that will totally be more gritty, heavy and funky. As expected there will be no tech trickery - what you hear is what we will play live. 
4-26-2014:  LION-HEARTED will return to Crossroads in Garwood, NJ to perform on Saturday, May 31st at 9pm!
4-23-2014:  We are proud to announce our new cross-promoting partnership with New York City's CONCRETE JUNGLE Clothing Company.
4-15-2014:  LION-HEARTED "GOES TO ELEVEN"!  as we reach 1,100 fan sign-ups on Jango Radio!
STATS:
- 24% of fans are in the 25-34 age demographic (21% between 18-24, 22% between 35-44, and 19% between 45-54).
- Highest concentration of fans outside the United States: Canada, Mexico, Costa Rica, Israel and Japan.
- Songs have most recently been in rotation on the stations for these other artists (targeted for highest success rates): Sublime, Incubus, blink-182, Jamiroquia, The Heavy and Scorpions.
4-10-2014:  LION-HEARTED will be featured in the July/August (#64) issue of FIREWORKS magazine in the UK...  Details to follow.
Issue 63 for May/June hits the news stands on April 17th featuring the great Glenn Hughes and his new band, California Breed (with Jason Bonham). on the cover.
4-5-2014:  Songs from our first album, "SP1: Those Who Roar Last", have surpassed 35,000 listens worldwide on Jango Radio!!!!
Additionally, we are proud of averaging a better than 80 (out of 100) listener-determined "Pop Score" on a weekly basis.
01-12-2014: We were accepted in the Hard Rock Rising 2014!!!

01-12-2014: We will be performing at  on March 1st - more details to come...
12-12-2013: The album is now available on iTunes and ALL music purchase sites
11-26-2013: We are now working on new originals that will be part of the next release. Videos, promo tasks are in the works for the current release - iTunes and Google Play release date is coming soon.
11-04-2013: We will be performing at Crossroads on November 15th at 8:00 PM.
10-07-2013: Added lyrics from our upcoming CD to the site and added pictures from our last 2 shows. Getting ready to sell the CD on all digital and disc music stores soon!!!
08-20-2013 : We will be performing at The Bitter End on Friday Oct 4th at 10:30 PM - this will be our NEW YORK CD RELEASE PARTY!!!
08-10-2013: We will be performing at Crossroads on September 21st at 10:00 PM - this will be our  NEW JERSEY CD RELEASE PARTY!!!
08-05-2013: We will be performing at Sullivan Hall in NYC  on August 23rd at 9:30 PM sharp (be there around 9) - details for the show can be found at the Facebook Event - https://www.facebook.com/events/640513789306625/ and advanced tickets can be had from TicketWeb
07-19-2013: SHOW IS POSTPONED - Franklin Pond has cancelled the show for tomorrow due to possible storms and rescheduled for August 3rd.
07-05-2013: SHOW - Lion-Hearted will be "Rockin' The Pond" two weeks from tomorrow in a free concert at Franklin Pond in Franklin, NJ (in the Sparta/Hamburg/Stockholm area of Sussex County) at 6pm on 8/03.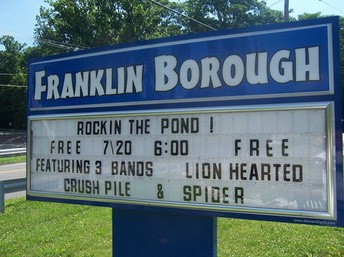 06-17-2013: Tonight we begin the final mixing of our 5 new songs. Next, we start planning the strategy for marketing our next release and upcoming shows.
05-15-2013: Marc and Pete have finished up most of the guitar, bass and vocal parts for the 5 songs we recently recorded. 
04-20-2013: Our rehearsals are also becoming a forum for even more new material. We recorded some ideas that will hopefully become material on our next release.
04-05-2013: We started the recording process for 5 more songs at Clear Cut Studios. Once we are done with the production and legalities, the songs will be available through download sources and/or CD. 
03-31-2013: Added dues:PAID to Jango radio and added streaming songs to Reverbnation - so far we have a few thousand listeners worldwide! 
02-28-2013: Lion-Hearted is now on Jango Radio at http://www.jango.com/music/Lion+Hearted?l=0   This is a unique radio station that uses free apps for iPhone, iPod and Android devices, or your PC/tablet. We now have listeners worldwide
02-25-2013: Our music was finalized on CDBaby and is now available for purchase through our site in the Music Tab, FB, iTunes and other digital distribution stores.
02-12-2013: Lots of work getting done -- Prep for the show, EP is ready for iTunes, CD and digital distribution, promo CD's are being made, bass drum logo is done (below), merch and etc. We are really looking forward to seeing everyone on the 22nd.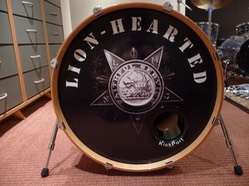 01-08-2013: We just finished the final mixing of our song Dues: Paid. We are very proud of the end result, many thanks to Max of Clearcut Studios, and we plan to finish the last song very soon.
01-03-2013: Tonight's rehearsal brought about a lot of ideas and new songs that run the gamut of styles and genres but are uniquely our own sound. We plan to make a new batch of originals to add to our recorded songs as they are organized.
12-29-2012: Just completed the final mixes for 3 of our 5 recorded songs. Hopefully we will be able to put them up on Reverbnation and through a link through this site and TuneCore (iTunes). Next week we rehearse for more new originals.
12-28-2012: We have spent many days and weekends in the past few months doing the final mixes on our songs and rehearsing and coming up with even more new originals. True to our initial quest, the songs came out strong, organic and honest. We plan to release it on iTunes, update our band pages and begin a new strategy. More updates next month...
10-13-2012: Today we begin recording our first 5 originals, all the preparation is done, now it's just a matter of doing the best we can to make our songs sound proper.
10-09-2012: We had a great rehearsal, which was mainly done in preparation for recording 5 of our originals at Clear Cut Studios this Saturday. Once we are done with the production and legalities, the songs will be available through download sources and/or CD. 
10-06-2012: Made a new logo based on the medal handed down from Marc's Grandfather - it was photographed several ways and digitally transformed to show L H in the top corners. This is now in the banner of this site. The Facebook and Reverbnation pages were changed as well. 
09-23-2012: Last night's show was wonderful, it was a full house! Thanks to everyone who came and made it such a special event for us. We are now in the process of discussing next steps both in recording and future shows. There will be more picture and video updates to the site in the coming days.
09-12-2012: Added a new page for us on ReverbNation - it is cross-linked to our other pages and should be a decent marketing tool.
09-10-2012: The show is drawing near and a lot of tickets were sold, we are very thankful for that and will not take it for granted. From what we are told, there will be some surprise celebrities showing up, but more importantly, we are so proud of our friends and families that will be there to support us for our very first show. Words can't describe...
09-09-2012: Added a new lion-hearted page on reverbnation  - link to follow soon
07-29-2012: We will be playing Mexicali Live on September 22nd, tickets are available directly from us or through their site. If you are interested in tickets, please contact us at  lion.hearted.nj@gmail.com - you can go to the Facebook event page at  https://www.facebook.com/events/124076044399784 
07-12-2012: We have 20 original ideas and still counting. Just in tonight's rehearsal. we wrote 3 song ideas. In the next coming weeks, we will solidify our strongest originals and prepare for a late Sept. show.
06-21-2012: A new original was created, suprisingly on the 2nd rehearsal, complete with lyrics and arrangement. Well done Marc and Pete.
06-20-2012: Updated the site for gear information
06-07-2012: Pete Pineyro, guitarist extrodinaire, joins the band and our first original is mapped out and played. Our roadmap to a hard driving funk style is solidified.
04-26-2012: Tryouts for guitarists
04-12-2012: Tryouts for guitarists, more interviews
04-01-2012: Gear list, photo history and site images added
03-29-2012: Tryouts for guitarists scheduled for next week
03-28-2012: Bios for Marc and Joe were added
03-21-2012: This site was developed and entered under iPower hosting