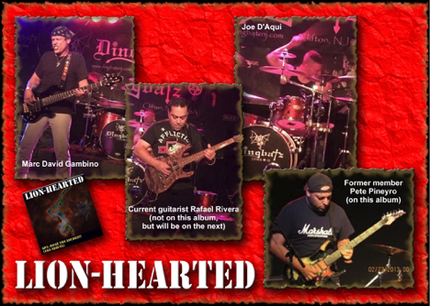 A review by Tara Jennings @ Rapunzel Rock Agency 
I have been waiting in anticipation of this release for a long time, so when I received my copy of "SP2 ROAR THE LOUDEST (THE SEQUEL)," I had to crank it up straight-away.
Often a band will floor you with a great first recording ('THOSE WHO ROAR LAST' was epic!!) but then subsequent releases are well beneath par. This is most certainly not the case here, as Lion-Hearted has morphed into one of the funkiest and well-crafted bands I have heard in a long time.  
I love the way all the musicians in this band play their parts without stepping on each other.  
Marc Gambino's vocals are spot on – he's an exceptional vocalist. He is also one of the finest bass players that I have ever heard.
Guitarist Pete Pineyro is a massive talent. I love his distinctive tone, and he knows that he doesn't need to overplay his part – a treat for us fans for sure!  
Drummer Joe D'Agui keeps the funky beat in check with style and versatility. 
SP2 ROAR THE LOUDEST (THE SEQUEL) opens up with an aptly named track "Anticipation."
This track sets the pace for a funk explosion. It's a tight number that keeps you bopping. Once you are on board the Lion-Hearted train, you won't want to get off. This song has it all – great vocals, great players – and a fast, hard hitting beat that makes for a perfect opening track.
Next we have "Different Altitudes." This track has a slower, jazzier feel to it – I love it! Each musician shows their spectacular qualities throughout. Again, there's no need for loud squealing guitar histrionics - although each member takes what I would term as their own 'musical bow' in this track. 
The third track is entitled "Pain" – This track is gentle track that has a jazz-rock fusion with a groovy sprinkling! Marc's vocal are as always, perfect on this track. The song is softly delivered vocally, but you can hear the instruments gently complimenting each other in the background. Beautiful!
Track number four is "Tequila Cuddlefish." What a great title – I'm going to request the deep background on that title for sure!! This musical track is a rollercoaster of jazzy rock and picks up a fast pace. Pete shines on this track -- he is a definite name to watch out for. Joe also shows what he is made of on this track – his percussion skills are exceptional. 
The fifth track on this masterpiece is "The One." It opens with a toe-tapping beat, and straight-away Marc's vocals and Pete's backing vocals are soaring. This song has more of a rock feel with a slice of funk on the side. I always play it twice, as this is my favourite track! Again, it's an example of perfect musicianship -- no one overplays. There's something that just draws me toward Pete's guitar and backing vocals on this track especially. 
The last track is called "Wait…What?!?!?!" This tune has a funky-rock groove and could easily be a hit for them. It's seriously catchy! Joe and Marc are percussion masters. It's a snappy number that pleasantly lingers in your head afterwards. 
Marc, Pete, and Joe are three musicians who have released two class albums.  If you don't have either recording in your collection…get both!
I guarantee you'll be blown away by this band. 
Yet again, I raise my glass to Lion-Hearted, what a funkin' great band. Cheers, lads!