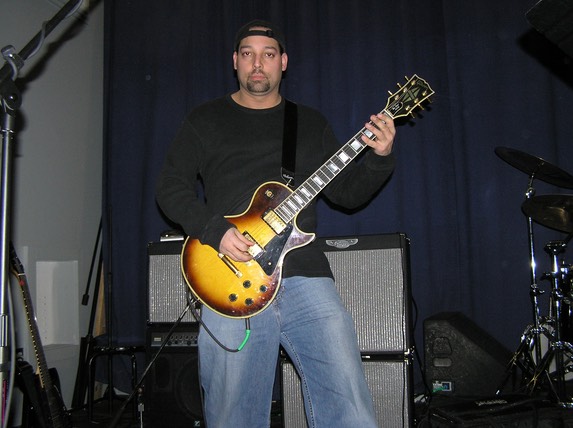 Who could predict that a 10-year old Argentinean boy who started by studying classical guitar in Madrid, Spain would turn out to be the player that Pete Pineyro has become?
Thirty years later, the intense search for an "expressive guitarist" has brought Pete to Lion-Hearted… But his DEPTH of expressiveness was the most important factor in forging this union with Marc David Gambino and Joseph D'Aqui.
The well-travelled son of Victor and Noemi Pineyro, Pete was born and raised in Manhattan, gaining an appreciation for funky hard rock and an extreme fascination with string orchestration. Those diverse connections are made on a deep, emotional level.
His schizophrenic style of playing goes from a greasy, nasty, almost-evil dissonance to a beautiful sensitivity (without losing his distinctive style and sound). This is the result of an open-minded acceptance of all things musically good (regardless of genre), and a unique ability to incorporate those interpretations from the gut.
Pete's list of guitar influences includes Eddie Van Halen, Steve Vai, Joe Satriani, Paul Gilbert, Ty Tabor and Eric Clapton… But he also cites Billy Joel as his musical hero, saying "Scenes From An Italian Restaurant" is his all-time favorite song.
A relentless sense of humor is another reason Marc and Joseph asked Pete to join with them; as his fun personality is a perfect offset to the extreme seriousness of the band's founding duo.
When asked if he has any strong religious or political beliefs, Pete says: "The mortality issue blows!" and "I know just enough about politics to not take it too seriously." And when asked if any of his guitar influences are evident in his playing, he simply replies: ("I hope not.")
Pete has performed over the years with New Jersey-based bands "Skull Cramps", "Polyester", "Bachelor Party" and "Who's Your Daddy?" as well as New York-based groups "Antagonist", "Premonition", "Project Mercury" and "Prisoners Of New York."
His 30-guitar arsenal includes 14 Ibanez axes; as he is a self-proclaimed "Ibanez whore."
Pete's wide-ranging voice brings another important element to the band, and his ability to harmonize has quickly elevated original arrangements already in the works.
Thirty years of playing, a guitar (on average) for every one of those years, and a wide variety of musical inspirations & interests are Pete Pineyro's stamp on the Lion-Hearted package.